Some mortgage brokers I talk to settle $8M+ loans per month and the others settle $800K and less. How is it possible that two people doing seemingly similar type of work perform so drastically differently? Clearly, supply of quality leads has to do something with it as does the broker location (and the resulting average size of the loan). But what about broker productivity? Or their business set-up to ensure the best productivity outcome?
Brokers frequently tell us that it takes 6-8 hours of their and their team's time to settle a loan. Under this scenario, average broker would settle 20+ loans per month – which clearly isn't the case. Others are more realistic and are budgeting 15-20 hours of work per loan.
The reality is that nearly all mortgage brokers that we know or follow through the industry contacts are settling less than they actually can due to their sub-optimal productivity settings.
1. Broker revenue formula
Velocity is critical for mortgage brokers as time plays a crucial role in the revenue calculation, as this simple formula demonstrates:
Monthly Revenue = Loan Size x Commission x Number of Settled Loans
While the commission percentage and loan size are important, they are generally not always controllable factors in this formula. Number of settled loans is limited by time available (and by your lead supply). Therefore, less time taken to settle a loan will also increase your total settlements for that month.
Simply speaking: total time available, average loan size and the commission percentage are not that easy to control, while generating lead sources and your productivity settings are fully under your control.
While we deal with a lot of brokers, we don't often see many that regularly get to more than ten settled loans per month on their own before running out of time. Such months typically leave no time for the networking, self-development and existing client servicing. This results in a 'seesaw' effect on the sales cycle, where one good month is followed by a slow one. As a result we are seeing the actual industry averages of around three to four settled loans per month.
2. Where does your time go?
I estimate that one loan takes on average about 15 hours to move from a lead to settlement. So where does this time go? Chart below is a summary of the steps required to settle a loan.

a) Lead generation and conversion
Clearly, every lead does not result in a settled loan. Some leads are warm and take little conversion time, while the others will require several hours of work before they convert or even worse, drop out. Choice of lead generation method will affect conversion time requirements. For example, website leads will require significant conversion time due to the 'shopping' nature of such clients, difficulty to get hold of them initially and the typical slow response to the web leads (time waste and conversion drop significantly if the lead isn't serviced within five minutes from contacting you online).
b) Data capture, document and signature collection
In order to provide the advice, brokers need to interview their clients to identify them and collect Fact Find and the supporting documents. Document collection in particular seems to be a nightmare, as the clients typically don't have all of it at once or it takes too much of client own time to collect it. This process alone can take days per loan and is often the main bottleneck in the industry. Client signatures are required for various documents by the aggregators and lenders, as well to fulfil settlement requirements. Current process involves identifying what needs to be signed, sending it to the client to sign, printing, signing, scanning and sending back. What a handful!
c) Research and advice
This is a key element of every broker's job and one area that to a client makes using a broker a better value proposition than going directly to the lender. Product research and advice are complex functions, however with frequent lender changes it is becoming even harder to provide the advice efficiently. Brokers often spend days chasing lenders for the policy clarification or deal rework due to incorrect lender policy interpretation. Take for example calculating the maximum borrowings for a complex deal: no aggregator platform can efficiently do this. It is nearly impossible to simulate various lender calculators in one solution. Lender servicing calculators (and their applicable policies) aren't really built to save you time (take ANZ's ToolKit for example). Brokers then spend hours testing scenarios with various lender calculators.
d) Compliance requirements, loan processing, tracking and customer service
Since NCCP act was enacted, compliance workload on mortgage brokers increased significantly. There are several national and state legislations that require significant compliance work to be completed in order to maintain credit rep credentials and trade as a mortgage broker. There are Privacy Act, AML/CTF, various state title laws and the additional aggregator and lender imposed rules that all 'take life' out of a sales person. These are however necessary and cannot be avoided (but can be done more efficiently).Once your lead is converted and data and documentation are collected, loan processing takes more of your time. It is cumbersome to enter data in the aggregator platform, move it to Apply Online, prepare and upload all documents and then track the loan to settlement. Increasingly, lenders are passing their own workload to the broker in order to reduce their own processing times. See for example the Apply Online document upload, the work is passed to the broker in order to reduce indexing time on the lender side. While this processing work is taking your time the clients are enquiring about the status of their finance application, which takes more of your time and attention from the other activities. At xSource we made business out of this broker problem by processing over $5bn of home loans per year.
e) Client settlement support
Loan and mortgage documents were written with legal aspects in mind and as a result they are not user friendly at all. Conveyancers can be of assistance in completing settlement requirements, but even they stir away from guiding their clients through the complex loan and mortgage paperwork. We often see that the most successful brokers dedicate their time to guide their clients through the complexities of settlement process, creating another compelling reason to use mortgage adviser vs doing it alone or via online mortgage service.
3. The Solution Framework
To come up with the solutions, lets understand the concept of value added work (well known concept form the Lean Manufacturing) that many successful business across multiple industries are applying to improve the productivity. There are three types of work activities:
Value added activities – these result in revenue increase and need to be the focus of your work;
Non-value added, however necessary activities – these can be outsourced or done by someone in your team;
Non-value added activities (or waste) – these need to be removed from your work schedule.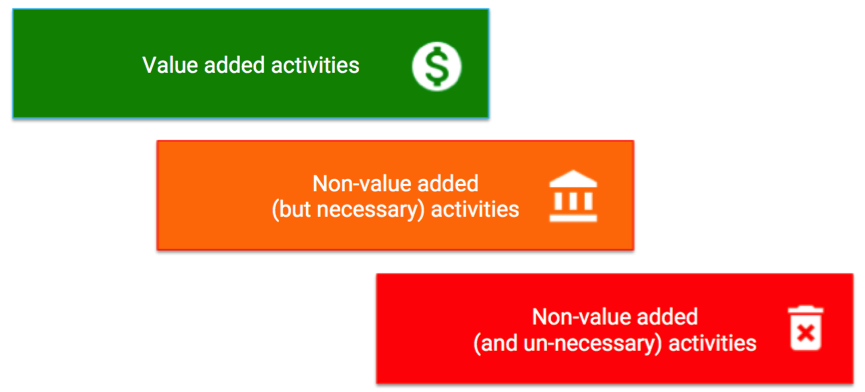 For a mortgage broker typical value adding activities are networking, lead generation, lead conversion and credit advice work. Non-value added activities (but necessary) are data and document collection, compliance work, loan processing, and assisting clients during loan application and settlement process. Typical non-value added and unnecessary activities involve printing, copying, scanning, travelling to and back from meetings. You might disagree with this categorisation, especially in light of compliance issues mentioned before, however – read on…
4. Our Vision
a) Outsourcing
While all of the work can be done 'in-house' using salaried and contract staff, outsourcing of several non-core activities has become a standard throughout the broking industry. Few years ago we set off to create what is now Australia's largest loan processing group, xSource. The idea was simple – brokers are much better off selling than processing loans and completing the compliance documentations. This resonated with the market and we managed to double our business every year virtually without any advertising spent. We created an excellent service for a reasonable fee with brokers having no fixed costs, employment, training, supervision or retrenchment costs. Apart form the loan processing and customer service outsourcing, 'para-broking' is another potential area where brokers can get contractors to research product options, policy and servicing in order to save time for the more 'core', client facing aspects of credit advice. Outsourcing of these non-value added but necessary activities is clearly one of the ways of increasing the revenue within the available broker time.
b) Technology
We also understand that outsourced processing, customer service and para-broking isn't the only way to save time. Technology can dramatically improve productivity if used for data and document collection; electronic signatures; automated and self service client updates; remote client video interviews; automated data collection, identification, credit and property checks; SMS and email marketing, improved deal and task management and more. Last year we set off to create a solution that does exact this, and all of it. After the extensive use and testing with our xSource clients, our workflow automation CRM, Salestrekker will go live on 1st January 2017. So how does Salestrekker dramatically improve your productivity (and therefore revenue and costs)?
Extensive workflow automation options. You can automate client milestone and document requirement updates and reminders, fixed rate expiry notifications, document production and delivery to clients, ID and credit checks and task allocation to team members and contractors.
Templates for everything. Create email, SMS, task, document and required document checklists to avoid repetitive entry.
Integrated communications. Salestrekker has VOIP phone capability with recorded voice, SMS and video chat options. Client emails can be copied in deal notes with a simple forward link. Such recordings significantly improve your compliance and reduce risk.
Client portal access. Let your clients access deal information that you decide to share with them. From their PC or mobile device they can complete and update Fact Find information, upload required documents and view latest updates.
Automated client on-boarding for automated document collection, ID checks, credit checks and property reports. Using state of the art OCR technology, we can pre-fill fact find and gather background checks while your client uses their smart phone to onboard to your business.
E-signatures. Send documents directly from Salestrekker to your clients to collect client signatures electronically. Signed documents are saved automatically in Salestrekker.
Integrations. Salestrekker integrates with other productivity tools to create a complete productivity suite for any finance professional, regardless of the team size.

c) Efficient Processes
To complete the picture, in addition to outsourcing and use of good technology brokers have a range of options to modify internal processes to become more productive. The simplest approach is to identify wasted activities and find the ways to eradicate them. For example, fillable PDFs combined with e-signatures can completely remove paper, printing and scanning activities. Driving to an interview can be necessary, but combined with the right technology an online interview can save time and be less intrusive for the client as well. There is always a question of current lender requirements for the 'wet' signatures, face-to-face meetings. We are certain that use of e-signatures will be wide spread shortly as will be the acceptance of other alternative and more reliable ID checks than a simple face to face meeting. Some lenders, such as Macquarie are already leading the pack. Expect others to follow soon. With the aid of outsourced providers, technology such as Salestrekker and sound internal processes, broker's own lead to settlement time can reduce to 4-5 hours per loan. With good lead generation strategies, these methods can triple individual broker revenue. Using methods described we are currently assisting one of our clients to reduce time required for settling $5m/month from 25 hours per week to about 10 hours per week. Fell free to contact me on 1300 660 760 or via our embedded Salestrekker web form if you'd like to discuss these concepts over the phone or a video link.
Dalibor Ivkovic (Director – xSource/Salestrekker)