Most mortgage brokers are looking to improve their output or reduce time taken to do their work. Brokers are also looking at the impact that outsourcing, current and future technologies will have on their value creation.
MFAA stats claim that an average broker in NSW settles about $12M p.a. Compare that to the top brokers that settle over $250M p.a. and there is a clear gap that most brokers want to address. What makes top broker to be in this position?
I am sure their location (i.e. loan size), referral partnership (loan size + ease of conversion) have to do something with this 20X gap in annual settlements. However, one thing in common with all of them is that they understand their value stream.
Value stream mapping (VSM) is the process that Lean organisations practice when they commence their improvement journey. It is used to understand which activities add more value than other, identify inefficiencies and improve overall business flow and performance.
Mortgage brokers aren't different to other business; they offer a service that generally has the beginning and the end.
In general that process has the following steps:
Lead generation
Loan application
Post settlement activities

Our experience with over 600 mortgage brokers and over 10,000 loan applications per year tells us that average time spent on a loan from lead to settlement is approximately 15 hours. Add to that lead generation and post settlement activities and each loan (on average) will take over 20 hours.
One thing that is common to all mortgage brokers is limited time they have to service their customers and to generate revenue (i.e. value). If we assume that a broker will work 40 hours per week, and average loan of approx. $500K, this means that a maximum annual settlement volume of a single broker is approximately $50M. Yet, few brokers settle $200M+. So, how is this possible?
Let's detail the value stream for the Lead to settlement processes.

Once the new lead is 'in the system', we can add the following steps:
Lead conversion
Loan packaging
Application processing
Application tracking
Settlement process
In a proper VSM activity these steps would ne split into more sub-steps, however this will do for illustration purposes.
Human Element
The most successful brokers outsource parts or most of these steps to their internal employees or external providers. They also look for 'wasteful' activities and remove them completely.
The decision what to outsource typically lies on the level of competitive advantage brokers place on these steps. E.g., creating referral partnership and lead conversion are often the most valuable steps and they tend to be managed by the top broker in person. We also see that all top brokers see their clients personally for the signing of loan documents (often via video conference).
Broker staff or their outsourced providers typically do loan application processing, application tracking, parts of the settlement process and post settlement activities. These days, this is the norm and outsourcing companies (like XSOURCE) are often more skilled at these tasks then the brokers or their employees.
Loan packaging is a new area of outsourcing to the external party. Within the 'top broker' office, these tasks are typically completed in collaboration between the broker and the support officer. Broker typically has all the know-how but the support staffer does the calls and loan application preparation (e.g. document collection and policy checks with lenders).
For the brokers that cannot afford internal staff member, we created a new function – a parabroker. This function is similar in nature to paralegal and paraplanner roles (in legal and financial advice industries). Parabroker does not offer advice, they simply research and package loan from the administrative point of view. Broker is still responsible for the credit advice offered to the client. The process is still highly collaborative.
Current Technology
As a footnote to this discussion, the choice of technology (e.g. the CRM system) plays a critical role in reducing time taken to settle a loan application. Traditional CRMs are often cumbersome, hard to navigate and designed only to produce compliance documents and lodge loan application to the lender. From our experience, brokers see it as the necessary obstacle and not a solution.
With the experience of using eight leading broker solutions in the market, we helped creating Salestrekker CRM with the aim to reduce loan processing time four times compared to the traditional aggregation platform.
How does Salestrekker CRM save brokers time?
Collecting data and documents from the clients is often the bottle-neck. Salestrekker CRM has a modern consumer grade online fact find integrated in its Client Portal. Once Fact Find is in, it is automatically saved in the CRM.
Clients can upload required documents either via Client Portal or via Video Conference. Video Conference feature also saves time in meeting client face to face (travel time) and improves compliance (meetings can be recorded and auto saved in the CRM).
Automated workflows update client and the referral partner directly (Salestrekker has a Partner Portal feature for the automated referrer updates).
Once data and documents are in the CRM, its intuitive layout and a single screen fact find and broker tools make it a breeze to prepare loan application. Compliance documents are prepared with a single click and can be sent to the client to sign electronically.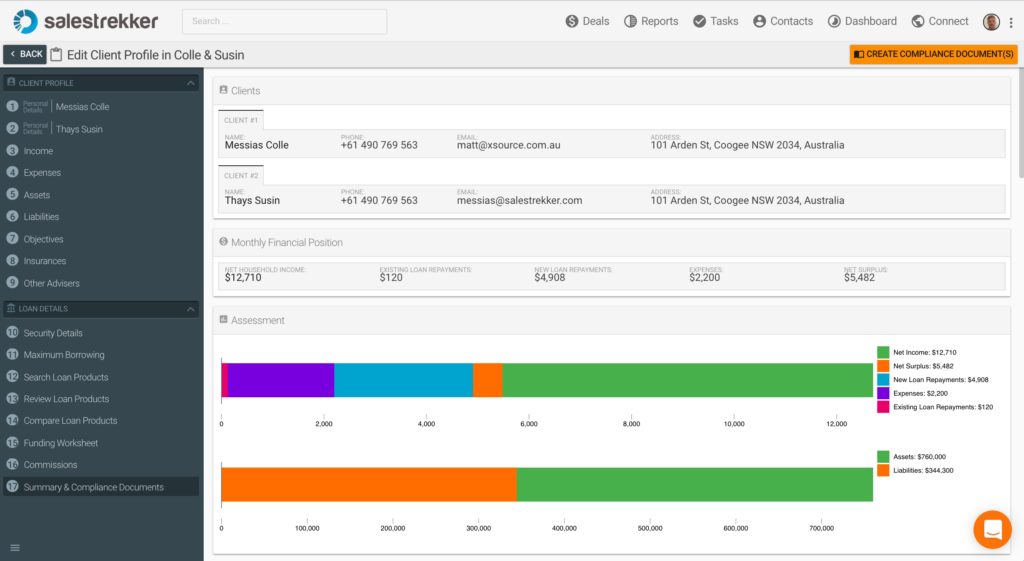 Future Technology
Machine learning and Artificial Intelligence (AI) aren't the future, this technology is currently and successfully used in a number of industries. Many brokers are fearing the entrance of AI into this sector as this is threatening to take over the current work done by some 16,000 brokers (and the banks).
While I am a firm believer in the AI taking over of many jobs currently performed by a human, a mortgage broker role will still be present, however heavily assisted by the AI technology. The following chart explains the impact of AI on the current mortgage broking process and potential time benefits:

Examples of current and future technology tasks (that will replace a human):
Data entry into CRM – the lead will complete the self check-in online and potentially upload certain documents. At this stage, broker CRM will collect information available (banks, credit agency, property searches, etc) and/or OCR documents uploaded to complete the data entry.
Based on data collected, the technology will work out what (if any) products can be offered. Clients will be able to select the product they prefer. This is where human element might intervene to either amend the advice or assist where the technology cannot resolve the situation (or data collected was incomplete).
Once data and products are in, the technology will prepare the application forms and submit to the lender. Much of the loan tracking and updates can already be automated.
With paperless settlement processes (Pexa, etc) much of this step can already be automated and made simpler for both applicants and the broker. Human element here might be at the point of completion of settlement and arrangement of any post-settlement activities.
Adding AI technology within the major might mean that the use of brokers originating loans will be significantly reduced compared to the current peaks. It is also very likely that banks will be affected by the new digital only entrants.
AI impact on this and other industries is still being assessed throughout the world. There is a strong belief that within 5-10 years the widespread use of AI might have a severe impact on the world economy as there will be a significant jump in unemployment.
Contact us if you'd like to hear more about Parabroking, Virtual Assistants and Loan Processing or click here to arrange Salestrekker demo.